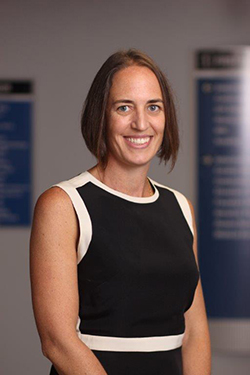 Ayer, MA – Korry Dow was recently appointed president of Nashoba Valley Medical Center (NVMC). Since August, Dow has served as interim president leading the community hospital, which employs a highly qualified medical staff with 115 active and associate member physicians offering community-based primary care and a wide range of specialty services.
"I am looking forward to building relationships and getting to know Nashoba's patients, residents, and community leaders," said Dow. "Having served as interim president and having worked with NVMC's finance department for more than ten years, I am already familiar with the special care our hospital provides and am inspired by how our highly skilled medical team touches so many lives in our community on a daily basis."
Dow brings an extensive background in health care finance to her role as president. As NVMC's chief financial officer, she led her team in operational performance, excelled in expense management and collaborated with physicians to develop programs and service lines.
"We are very pleased to have Korry serving as president of Nashoba Valley Medical Center," said John Pierro, chief operating officer of Steward Health Care's Hospital Services, Northeast Division. "Her strengths in operational performance, expense management, and physician collaboration to develop programs and service lines make Korry the ideal person to lead the hospital into its next phase of growth."
Dow's career began at Blue Cross & Blue Shield in Boston where she was a Medicare auditor. From there she worked as a reimbursement analyst for Boston Medical Center before going to Emerson Hospital in Concord, Massachusetts, to work as a senior accountant for the next eight years.
Dow graduated from Bentley College in Waltham, Massachusetts, where she received a bachelor's degree of science in accounting. She earned an MBA in accounting at Fitchburg State University.
###