Nashoba Valley Medical Center Welcomes Endocrinologist Lori Wang, MD, to the Diabetes and Endocrine Center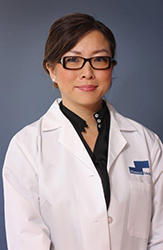 Ayer, MA – The Diabetes and Endocrine Center at Nashoba Valley Medical Center is pleased to welcome Lori Wang, MD, to its medical staff.  Dr. Wang is board certified in endocrinology, with extensive experience in the management of diabetes and thyroid disease. 
Dr. Wang received her medical degree from Washington University School of Medicine in St. Louis, Missouri, and went on to complete her internal medicine residency at New York University Medical Center, and endocrinology fellowship at Cornell University Medical Center. She is fluent in Spanish. Dr. Wang began practicing endocrinology in 2005 and was previously on faculty at Mount Sinai Medical Center in the Division of Endocrinology, in New York.
The Diabetes and Endocrine Center offers a multidisciplinary team approach for diabetes care.  The team is composed of endocrinologists, diabetes educators and dieticians, who are experienced in intensive diabetes management.
Dr. Wang is now accepting new patients at the center, located at 190 Groton Road, Suite 150 in Ayer, Massachusetts.  For more information or to make an appointment, please call 978-784-9534.
About Nashoba Valley Medical Center
Nashoba Valley Medical Center (NVMC) offers community-based primary care and specialty
services. NVMC was awarded its third consecutive A, the highest grade possible, in hospital safety by The Leapfrog Group for the Fall 2017 assessment period. The hospital was a recipient of the Joint Commission Gold Seal of Approval and was named to Leapfrog's annual list of Top Hospitals in 2014. Areas of clinical strength include emergency medicine, diagnostic imaging, geriatric psychiatry, cardiology, gastroenterology, ophthalmology, oncology, orthopedics, physical therapy and general surgery. NVMC also offers a comprehensive Center for Pain Management, Diabetes and Endocrine Center, Travel Clinic and Occupational Health Services. Nashoba Valley Medical Center is part of Steward Health Care, which is a fully integrated national health care services organization committed to providing the highest quality of care in the communities where its patients live. Steward operates 36 community hospitals in ten states that employ approximately 37,000 people and regularly receives top awards for quality and safety. The Steward network includes more than 26 urgent care centers, 42 preferred skilled nursing facilities, substantial behavioral health services, over 7,300 beds under management, and more than 1.1 million covered lives through the company's managed care and health insurance services. Additional information is available at www.nashobamed.org.
###