Diabetes/Endocrinology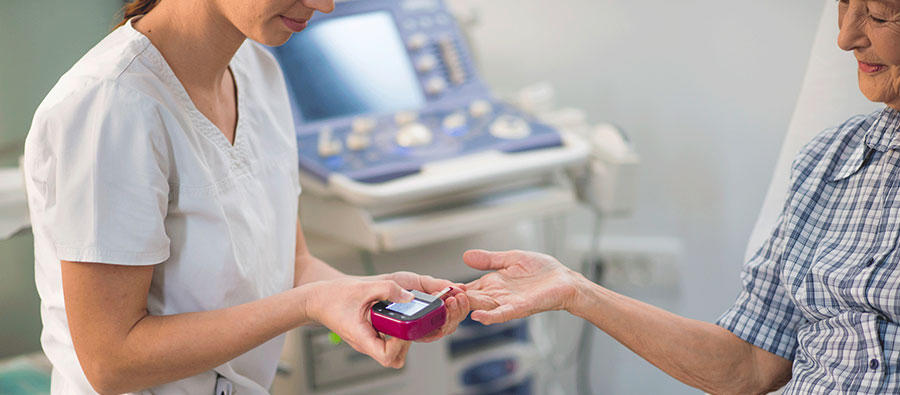 We are here to help you find what you need.
The Diabetes and Endocrine Center at Nashoba Valley Medical Center provides expert diagnosis and treatment for patients with diabetes and other endocrine and metabolic disorders.
Nashoba Valley's Endocrinology and Diabetes Services
 
Nashoba's board-certified endocrinologist provides personalized consultation and state-of-the-art disease management for the following conditions:
Thyroid and parathyroid disorders
Disorders of the adrenal, pituitary and reproductive glands, including polycystic ovary syndrome and hypogonadism
We offer the latest services and treatments, including:
High-resolution ultrasound/fine needle aspiration of thyroid nodules
Treatment for osteoporosis
Diabetes Services
At our outpatient facility, a team of clinicians, physicians, a nurse practitioner, diabetes nurse educators, and a dietitian, who are certified diabetes educators (CDE), are dedicated to helping people with diabetes, their families, and caregivers. The team builds an individualized diabetes self-management program for each patient, including guidance of diet, medication, exercise, and other factors to bring blood glucose levels as close to target as possible and avoid or minimize diabetes-related complications.
Diabetes Programs and Services
Nashoba offers a variety of diabetes services, including:
Insulin pump therapy
Computer technology for blood glucose management
Continuous glucose monitor sensing interpretation and management
Nutrition counseling
Community education services
Continuing education for health care professionals
Support groups
Resources
Nashoba Prediabetes

Given that diabetes is costly, hard to treat, and approaching epidemic levels, it's not surprising that interest in prediabetes is growing.

Nashoba Diabetes Vision

People with diabetes are more likely to develop eye problems, such as cataracts and glaucoma, but the effect of diabetes on the retina is the main threat to vision.