Primary Care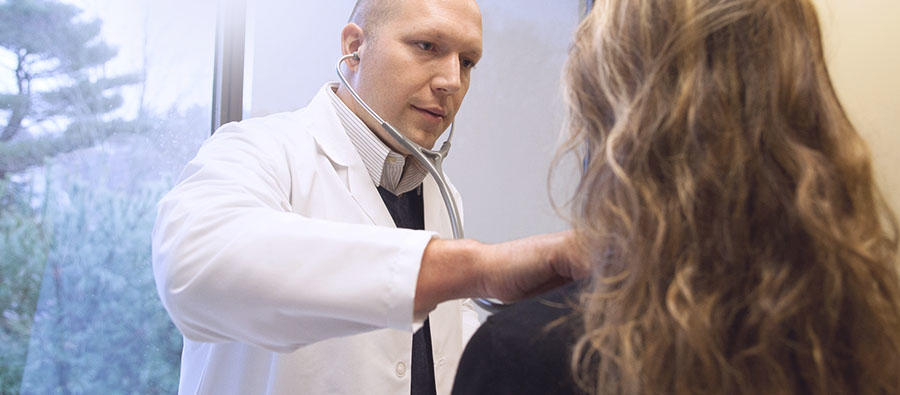 At Nashoba Valley Medical Center, our highly-qualified internal and family medicine (also known as primary care) physicians are conveniently located in your community.
Primary Care Physicians and Family Doctors in Ayer
Primary care physicians (PCPs) are on the front line of health care, providing everything from diagnosis and treatment of illnesses and chronic conditions to patient education and advice regarding disease prevention.
Receiving an annual physical from your primary care physician is important for maintaining good health, but their role goes far beyond checking your cholesterol and blood pressure once a year.
Your PCP will be there for you if you feel sick, have an infection, 0r are experiencing women's or men's health issues. They should be the expert you know and rely on for all your health needs – big and small.
Steward Medical Groups's board-certified primary care doctors in the Nashoba Valley region are currently accepting new patients. Schedule a primary care appointment by calling 978-784-9000.
 
What Do Primary Care Physicians (PCP) Do?
Primary care doctors recommend and administer vaccinations
They learn your medical history inside and out, including potential congenital and hereditary issues, and give you advice on healthy lifestyle habits you can adopt to combat those risks
If you're struggling with your weight, addiction, ED or any other health issue, they will provide non-judgmental, compassionate advice, education and resources to help
They will perform physicals and checkups, running blood tests, EKGs and other screenings to catch any potential health issues as early as possible
If your PCP discovers potential warning signs for diseases or health conditions, they will help you find an appropriate specialist
They will be your advocate and take a hand in coordinating your care while providing support if you're struggling with health problems
Compassionate, Patient-Centered Care
The primary care physicians affiliated with Nashoba Valley Medical Center maintain an unwavering commitment to their patients' overall health and wellness. It's of vital importance that each patient feels comfortable with their primary care physician, because transparency and honesty are essential to accurately identifying and effectively treating illnesses and maintaining optimal health.
Every primary care doctor in our network is committed to building patient-physician relationships anchored in trust.
Resources
Nashoba Healthy Joints

With 230 joints in your body there is plenty of opportunity for joint pain.

Nashoba Kidney Stones

Kidney stones are deceiving as they may be small in size but oftentimes cause excruciating pain when passed through the body

Travel Immunization

If you are traveling abroad, whether to China on business, Africa for charity-related work or India for pleasure, consider consulting the International Travelers' Clinic at Nashoba Valley Medical Center, which provides pre-travel evaluation, counseling and immunizations for international travelers.