Nashoba Valley Medical Center welcomes Neurologist Rania Elenein, MD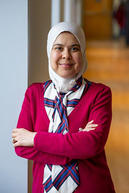 Ayer, MA – Steward Medical Group and Nashoba Valley Medical Center's Neurology Department recently welcomed board-certified Neurologist Rania Elenein, MD to the medical staff. Dr. Elenein specializes in electromyogram (EMG) testing, neuromuscular diseases, multiple sclerosis and Parkinson's disease.
"Nashoba's neurology department continues to grow with the addition of Dr. Elenein," said Korry Dow, interim president of Nashoba Valley Medical Center. "Her expertise with EMG testing brings a new level of neurological services to our hospital and aids in our continuing mission to meet the needs of our patients."
Dr. Elenein completed a fellowship in neuromuscular medicine and electrodiagnostic medicine at the University of Michigan in Ann Arbor, Michigan and completed a residency in neurology at the University of Medicine and Dentistry of New Jersey in Newark, New Jersey. She earned her medical degree from the University of Mansoura, Faculty of Medicine, in Egypt. Dr. Elenein is triple-board-certified, holding certifications from the American Board of Electrodiagnostic Medicine, the American Board of Neuromuscular Medicine, and the American Board of Psychiatry and Neurology. She also holds a certification in multiple sclerosis treatment from the Consortium of Multiple Sclerosis Centers.
"I am very pleased to join Nashoba Valley Medical Center's medical staff," said Dr. Elenein. "I look forward to providing personalized care and high quality neurological services to my patients."
Dr. Elenein's office is located at 190 Groton Road, Suite 210, in Ayer, Massachusetts, and she is accepting new patients. For more information or to schedule an appointment, please call 978-796-5927.
###