Steward Health Care's Gabriel Simon, MD, Named Region II EMS Physician of the Year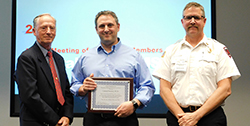 Ayer, MA - Nashoba Valley Medical Center's (NVMC) Chief of Emergency Medicine Gabriel Simon, MD, was chosen as EMS Physician of the Year for Central Mass EMS Corp., Region II (CMEMSC).
Every year Central Mass EMS Region II recognizes outstanding EMS individuals and services that go above and beyond what is expected in the field. The award winners are nominated by their peers and selected by the CMEMSC awards committee. Dr. Simon was presented with his award at a ceremony on May 7, 2019.
"The Nashoba Valley Medical Center hospital community congratulates Dr. Simon on receiving this recognition," said Nashoba Valley Hospital President Korry Dow. "Dr. Simon brings years of emergency medicine experience to our emergency department and has developed strong partnerships with our local EMS providers, which aids us in our continuing commitment to quality care and service."
"I am honored to receive this award from CMEMSC," says Dr. Simon. "Steward EMS is a team effort, and this would not have happened without the support from hospital leadership, Steward EMS and emergency medicine leadership, and importantly Lt. John Bresnahan, our very talented EMS Manager. This award is a sign that our team's hard work on our community's behalf is recognized by our EMS partners – I am so appreciative of that recognition. Thank you to all of my EMS friends and colleagues in Region II."
Dr. Simon joined NVMC in 2013 as a staff physician in the emergency department. He was promoted to chief of emergency medicine in 2015 and is a member of Steward Medical Group. Before joining the medical staff at NVMC, Dr. Simon was an instructor in emergency medicine at Johns Hopkins University School of Medicine in Baltimore, Maryland. In 2006, he completed his residency at the University of Pittsburgh and then went on to complete a postdoctoral fellowship in emergency ultrasound at Johns Hopkins. Dr. Simon received his medical degree from Yale University School of Medicine in New Haven, Connecticut, and his bachelor's degree in biology from Earlham College in Richmond, Indiana.
"This commendation is a well-deserved recognition for Dr. Simon. He and his team have worked tirelessly to enhance the emergency medical care provided throughout the Nashoba Valley region," said Dr. Mark Pearlmutter, Senior Vice President of Hospital Services for Steward Medical Group. "Dr. Simon's expertise in emergency medicine and his collaborative relationship with EMS in the field will continue to assist patients at their most critical time of need. We appreciate his leadership and dedication."
###