Captain Marty Scott of Townsend Fire honored with "EMS Stewards of the Community" Awards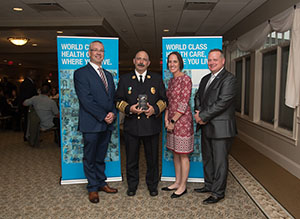 Ayer, MA – In celebration of National Emergency Medical Services (EMS) week, Steward Health Care hosted the third annual "EMS Stewards of the Community" award ceremony on May 20 at the Tirrell Room in Quincy, Massachusetts.
Dallas-based Steward, which operates nine hospitals across Massachusetts, recognized 19 EMS providers. Among these individuals was Marty Scott, Captain of EMS Operations for Townsend Fire. He was recognized for "going above and beyond" in his interactions with patients at Nashoba Valley Medical Center.
Scott has served as Captain of EMS Operations for Townsend Fire since 2016 and is also a call firefighter for the Town of Winchendon. Due to his efforts, the Townsend Fire Department has obtained three sets of ALS equipment as well as LUCAS CPR machines for all three ALS ambulances. Scott is an ALS instructor and recently began teaching classes for the Paramedic program at Mount Wachusett Community College. His leadership roles in the local EMS community as well as spearheading several projects to enhance quality and patient care across the region contributed to his nomination by his peers.
"Marty Scott is an excellent choice to receive this award as he is a valuable leader and advocate for the EMS community in this region," said Korry Dow, president of Nashoba Valley Medical Center. "He is continually striving to provide the highest quality patient care possible and we congratulate him on all his hard work."
The "EMS Stewards of the Community" awards show appreciation for emergency medical responders, emergency medical technicians and advanced emergency medical technicians, and paramedics who not only carry out the noble work of caring for others, but do so with a high degree of expertise, professionalism, and compassion. An internal committee of physicians and EMS directors selected nominated recipients among current providers in communities served by Steward.
Massachusetts State Police Trooper Christopher J. Dumont, EMT-P, delivered the "Stewards of the Community" keynote address. Trooper Dumont helped save the life of Transit Officer Richard Donohue, who was shot by one of the 2013 Boston Marathon bombing suspects. Because of his heroic actions, Dumont received the Medal of Honor, the highest award given by the Massachusetts State Police.
###
Photo Caption (L to R): John Bresnahan, Nashoba Valley Medical Center EMS Manager; Mark Boynton, Chief of Townsend Fire, accepted the award on behalf of Marty Scott; Korry Dow, Nashoba Valley Medical Center President; and Brenden Hayden, Steward Health Care System Vice President, EMS.