Nashoba Valley Medical Center's New Cardiac Imaging System Enhances Coronary Artery Disease Detection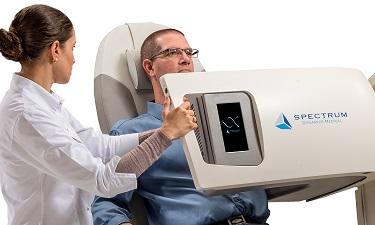 New system enhances accuracy of nuclear testing results, improves patient comfort, and reduces imaging time
Ayer, MA – Nashoba Valley Medical Center today introduced new, state-of-the-art nuclear cardiac imaging technology designed to enhance cardiac disease detection and improve each patient's experience. The new cardiac imaging scanner, the D-SPECT® Vista scanner, a Cadmium Zinc Telluride (CZT) nuclear cardiac imaging system, offers patients the latest in cardiac imaging by:
Improving diagnosis of cardiac disease by producing better image quality
Accelerating imaging time to 6-8 minutes compared to 20-30 minutes
Creating a more comfortable test for patients as previous scanners required them to lay flat with both arms up
Patient can be positioned from upright to supine
Eliminating a feeling of claustrophobia
Expanding weight range from 400 to 500+ lbs. to include high-risk bariatric patients
"The CZT technology is the best available for nuclear cardiac testing. The scanner gives us a better look at where blood is going in a patient and how their heart is working," explained Adam Cerel, MD, cardiologist, Nashoba Valley Medical Center. "In addition to providing our patients with a better scan and an overall safer and more comfortable test, we can now expand the patient population to test those with high BMIs who are at-risk for moderate to severe heart disease."
According to the Centers for Disease Control and Prevention (CDC), heart disease is the leading cause of death for men, women, and people of most racial and ethnic groups in the United States.
"We continue to invest in Nashoba Valley Medical Center to benefit our patients and community including implementing technology that allows us to provide best-in-the-region care to our patients," said Salvatore Perla, DrPH, President, Nashoba Valley Medical Center. "Heart disease remains one of the leading health concerns in the Nashoba Valley region. Our ongoing commitment to our cardiology services are designed to improve the health and well-being of the communities we serve."
For more information, contact our Diagnostic Imaging Department at 978-784-9270 or visit us online at nashobamed.org/cardiac.
###