Steward Health Care's Nashoba Valley Medical Center Earns Highest "A" Rating on the Fall 2022 Leapfrog Hospital Safety Grade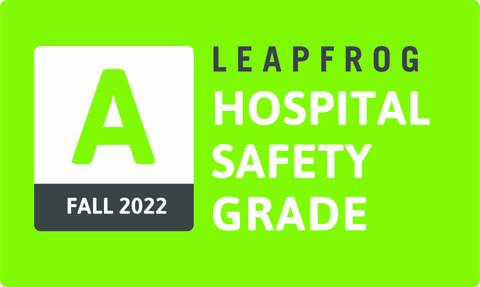 Nashoba Valley One of Six Steward Hospitals in Massachusetts Recognized for Patient Safety Excellence by Top Hospital Safety Watchdog
Ayer, Massachusetts - Nashoba Valley Medical Center earned an "A" rating for achieving the highest national standards in patient safety from the Leapfrog Group's the Fall 2022 Leapfrog Hospital Safety Grades. The designation recognizes Nashoba Valley's steadfast commitment to patient safety, even under the extraordinary circumstances of the COVID-19 pandemic. This achievement marks the hospital's third consecutive "A" grade from the Leapfrog Group.
"I am proud of the tremendous work of the Nashoba Valley Medical Center staff in earning our 3rd consecutive "A" Hospital Safety grade," said Salvatore Perla, DrPH, President, Nashoba Valley Medical Center. "Delivering health care continues to be challenging, but our staff remain focused on rigorous patient safety practices which is validated in not only satisfied patients but also this Leapfrog "A". We remain committed to our patients and our staff and will continue to work hard on behalf of the many patients and families we serve."
Nashoba Valley Medical Center was one of six Steward hospitals in Massachusetts recognized with the top mark, including Holy Family Hospital - Haverhill, Holy Family Hospital - Methuen, Morton Hospital, Saint Anne's Hospital, and Good Samaritan Medical Center, Inc.
The Leapfrog Group is an independent national watchdog organization with a 10-year history of assigning letter grades to general hospitals throughout the United States, based on a hospital's ability to prevent medical errors and harm to patients. The grading system is peer-reviewed, fully transparent, and free to the public. Hospital Safety Grade results are based on more than 30 national performance measures and are updated each fall and spring.
Developed under the guidance of a national expert panel, the Leapfrog Hospital Safety Grade uses up to 27 measures of publicly available hospital safety data to assign grades to U.S. acute-care hospitals twice per year. The Hospital Safety Grade's methodology is peer-reviewed and fully transparent, and the results are free to the public.
##
About Steward Health Care System
Nearly a decade ago, Steward Health Care System emerged as a different kind of health care company designed to usher in a new era of wellness. One that provides our patients better, more proactive care at a sustainable cost, our providers unrivaled coordination of care, and our communities greater prosperity and stability.
As the country's largest physician-led, tax paying, integrated health care system, our doctors can be certain that we share their interests and those of their patients. Together we are on a mission to revolutionize the way health care is delivered - creating healthier lives, thriving communities and a better world.
Steward is among the nation's largest and most successful accountable care organizations (ACO), with more than 5,500 providers and 43,000 health care professionals who care for 12.3 million patients a year through a closely integrated network of hospitals, multispecialty medical groups, urgent care centers, skilled nursing facilities and behavioral health centers. 
Based in Dallas, Steward currently operates 39 hospitals across Arizona, Arkansas, Florida, Louisiana, Massachusetts, Ohio, Pennsylvania, Texas and Utah.
About The Leapfrog Group                                                                                   
Founded in 2000 by large employers and other purchasers, The Leapfrog Group is a national nonprofit organization driving a movement for giant leaps for patient safety. The flagship Leapfrog Hospital Survey and new Leapfrog Ambulatory Surgery Center (ASC) Survey collect and transparently report hospital and ASC performance, empowering purchasers to find the highest-value care and giving consumers the lifesaving information they need to make informed decisions. The Leapfrog Hospital Safety Grade, Leapfrog's other main initiative, assigns letter grades to hospitals based on their record of patient safety, helping consumers protect themselves and their families from errors, injuries, accidents, and infections. For more, follow us on Twitter and Facebook, and sign up for our newsletter.