Nashoba Valley Medical Center Earns Highest "A" Rating on the Spring 2023 Leapfrog Hospital Safety Grade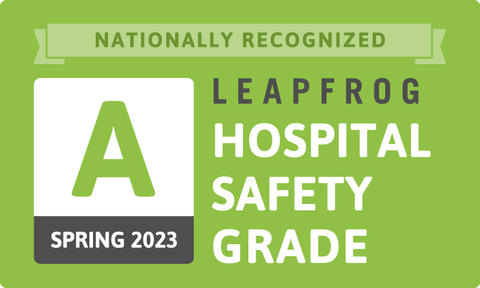 Nashoba is one of three Steward hospitals in Massachusetts recognized for patient safety excellence by a top hospital safety watchdog.
AYER, MA - Nashoba Valley Medical Center (NVMC) earned an "A" rating for achieving the highest national standards in patient safety from the Leapfrog Group's the Spring 2023 Leapfrog Hospital Safety Grades. The designation recognizes NVMC's steadfast commitment to patient safety. This is the hospital's fourth consecutive time receiving an "A" grade from The Leapfrog Group.
"The staff at Nashoba Valley Medical Center has built a strong culture of safety, which we have now maintained through so many unique challenges," said Dr. Salvatore Perla, president of NVMC. "Patient safety is a constant focus for everyone at Nashoba Valley, and we celebrate our staff for their attention to detail and questioning attitudes that prevent negative outcomes time and time again.  Thank you to our entire team for placing Nashoba Valley Medical Center among the safest hospitals in our region again this spring."
NVMC was one of three Steward hospitals in Massachusetts recognized with the top mark, also including Saint Anne's Hospital in Fall River and St. Elizabeth's Medical Center in Brighton.
The Leapfrog Group is an independent national watchdog organization with a 10-year history of assigning letter grades to general hospitals throughout the United States, based on a hospital's ability to prevent medical errors and harm to patients. The grading system is peer-reviewed, fully transparent, and free to the public. Hospital Safety Grade results are based on more than 30 national performance measures and are updated each fall and spring.
Developed under the guidance of a national expert panel, the Leapfrog Hospital Safety Grade uses up to 27 measures of publicly available hospital safety data to assign grades to U.S. acute-care hospitals twice per year. The Hospital Safety Grade's methodology is peer-reviewed and fully transparent, and the results are free to the public.