Mary Beth Bilotta, OTR, CHT
Mary Beth Bilotta, OTR/L, CHT is a licensed occupational therapist and certified hand therapist who has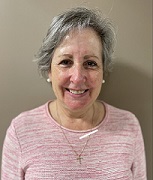 worked at Nashoba Valley Medical Center since 2001. Mary Beth graduated from Quinnipiac University with a Bachelors in Occupational Therapy in 1980 and received her Certification in Hand Therapy in 1992. Previously she was one of the co-owners and co-developers of the Houston Hand Rehabilitation Center, Inc. Mary Beth specializes in the evaluation and treatment of hand and upper extremity injuries, conditions and surgeries. A variety of treatments are provided, including custom orthoses, with the goal of restoring maximal function to the upper extremity. 
Dave Caty, PT
Dave Caty, PT graduated from Northeastern University in 1983. He has worked in a wide variety of clinical settings in several states. Dave has concentrated primarily on Orthopaedics with a focus on treatment of spine problems as well as work injury prevention and rehabilitation of work-related injuries.
Michael Chiauzzi, PT, DPT
Michael Chiauzzi, PT, DPT, earned his Doctorate in Physical Therapy and Bachelors in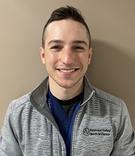 Exercise Physiology from UMass Lowell.  Mike has worked at Nashoba Valley Medical Center since 2019 for the inpatient and outpatient departments of the hospital. Mike is certified in vestibular, balance rehabilitation and fall prevention. Clinical interests include balance and fall prevention, vestibular therapy, orthopedics and neurologic rehab. Mike became a PT to help others return to a safe, healthy and independent lifestyle.
Taylor Donovan, PT, DPT
Taylor Donovan, PT, DPT graduated with her Doctorate in Physical Therapy from UMass Lowell in 2012.

Taylor has worked for Nashoba Valley Medical Center since 2018. Prior to that, she worked at Emerson Hospital where she was heavily involved in the spine rehabilitation and oncology rehabilitation programs. Taylor is Certified in Oncology Rehabilitation. Taylor's clinical interests include orthopedic and surgical rehab, oncology rehab and treatment of spine injuries. 
Laurel Mabon, PT
Laurel Mabon, PT graduated from Quinnipiac University in 1997 and has worked at Nashoba Valley Medical Center since 1998 specializing in orthopedic and musculoskeletal disorders and injuries.  Laurel's

past work experiences include working for Sunrise Healthcare specializing in treatment of patients with Huntington's Disease.  Laurel has also worked closely with doctors from the Boston Spine group at Fairlawn Hospital, running various spinal rehab groups to assist in returning injured patients back to work.  Other experiences include working in an inpatient setting at Catholic Medical Center in Manchester, NH. Laurel's clinical interests include utilizing Graston Technique for treatment, orthopedic rehab, surgical rehab, sports injuries and concussion rehab.
Return to the main Physical Therapy and Rehabilitation page.