The Diabetes and Endocrine Center provides a team of clinicians, physicians, a nurse practitioner, diabetes nurse educators and dietitian who are certified diabetes educators (CDE), to work with patients and their families.
Samara Pena, MD, ECNU, Endocrinologist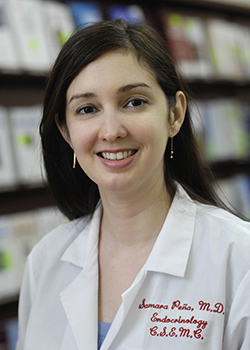 Dr. Pena is a board-certified, fellowship-trained endocrinologist who specializes in the management of thyroid disorders and thyroid nodules, Type 1 and Type 2 diabetes, parathyroid disorders, pituitary disorders and general endocrinology. After receiving her medical degree at the University of Puerto Rico Medical School, Dr. Pena completed her residency at St. Elizabeth's Medical Center and a fellowship in Endocrinology at Boston Medical Center. Dr. Pena is fluent in Spanish.
Sue Morris, CDE, Acting Clinical Program Manager and Dietitian
Sue Morris, CDE, is a registered dietitian and certified diabetes educator that has extensive training in medical nutrition therapy, with a specialty in diabetes. Working with patients and their medical records, Morris completes a medical and nutrition history, taking into consideration the present level of diabetes management, food preferences, individual goals for lipid counts, weight, and meal planning.