Whether you are recovering from a sports or other orthopedic injury or surgery, have needs related to a neurological condition, or have an issue affecting your daily living and working, our team is here to help you return to doing the activities you enjoy and regain mobility and function.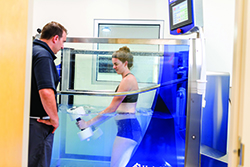 All of our services are provided in a state-of-the-art, brand new gym with sport floor and equipped with the latest equipment, including the Hydro-Worx 300 Pool with Treadmill for aquatic therapy, Biodex UBE upper body cycle, Biodex Biostep semi-recumbent elliptical, kettle bells, battle ropes, land mine press, Hex Bar, Versa Pulley, Sci Fit Elliptical, Life Fitness Synergy 90 Cable Machine, and Olympic Bar. 
As part of a comprehensive outpatient program for adults and children, our expert team of sports and physical therapists work collaboratively with the team of multidisciplinary specialists at Nashoba Valley Medical Center, to develop a rehabilitation plan of care for each person. The plan integrates other hospital services, as needed, including occupational and speech therapy.
Our specialty programs include:
Spine rehabilitation
Sports injury prevention and management
Strength training and conditioning
Kinesiotaping
FMS 
Cupping
Pelvic Floor Dysfunction Rehabilitation
Our licensed physical therapist customizes physical therapy treatment plans to meet the individual needs of patients diagnosed with pelvic floor disorders.  
Conditions treated include:
Diastasis recti
Dyspareunia
Constipation
Fecal incontinence
Interstitial cystitis
Pelvic pain
Post-surgical pain
Urinary stress and urge incontinence
Urinary frequency
Vaginismus
Depending on the diagnosis, a treatment plan may include a stretching and strengthening routine, manual therapies, including myofascial release and massage, bowel and bladder retraining, biofeedback, and education.
TPI-Certified Golf Program
Nashoba Sports and Physical Therapy offers a Titleist Performance Institute Certified golf program, which includes:
Learning the Body Swing Connection
Improving Swing Efficiency
Increasing Strength and Flexibility
A Comprehensive Kinematic Analysis
Video Swing Analysis
Prehab and Rehab of Golf Related Injuries
Resources
Graston Technique

The Graston Technique is used to treat soft tissue injury and lesions. It is clinically proven to achieve quicker and better outcomes for patients, and provides clinicians with an improved diagnostic and treatment technique for many challenging musculoskeletal conditions.

Vestibular Rehabilitation

Vestibular rehabilitation is an exercise-based program designed by a specialized physical therapist to improve balance and reduce/eliminate dizziness related problems and symptoms.

Aquatic Therapy

Our therapy pool offers aquatic therapy for patients with orthopedic and neurological disorders who experience symptoms such as pain, weakness, weight-bearing restrictions after surgery, swelling, and/or changes in muscle tone. This therapy combines traditional exercise with the water's buoyancy to enhance and accelerate the rehabilitation process.