Imaging/Radiology
Nashoba Valley Medical Center's Imaging/Radiology Department includes a sophisticated and comprehensive facility with state-of-the-art imaging technology.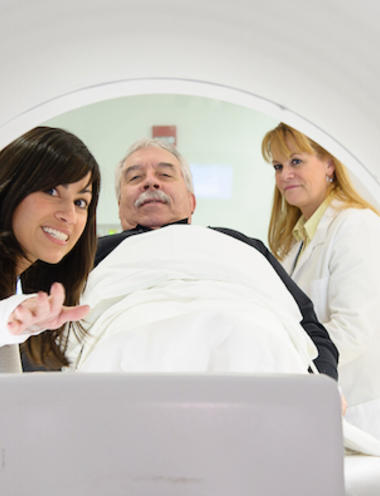 Diagnostic Imaging & Radiology: MRIs, X-Rays, Ultrasounds and CT Scans
Computed Tomography (CT):
CT (computed tomography) or commonly known as "CAT scans," is a diagnostic imaging test that uses a combination of X-rays and computer technology to create images. A series of X-ray beams from many different angles are used to create a cross-sectional image of the body part being scanned. This is extremely useful to view blood vessels with the use of intravenous X-ray contrast.
64-slice CT Scanner:
64-slice CT scanner with specialized software called iDose that reduces overall radiation exposure to the patient while providing optimal imaging for accurate diagnosis. Nashoba's CT Scan department is fully accredited by the American College of Radiology.
Low-Dose CT Lung Cancer Screening:
Lung cancer screening looks for signs of the disease before there are any symptoms in patients who are at high risk. Low-Dose CT lung cancer screening uses state-of-the-art computed tomography to take pictures of the lungs to detect potentially treatable lung cancers. Our detailed brochure below, in the resource section, gives more information on the screening.
Nuclear Medicine:
Unlike conventional X-rays, nuclear medicine uses a radioactive material that is usually injected into the patient's body and is then detected by a "gamma camera." Most radioactive materials are eliminated from the body rapidly. Nuclear scans look more at organ function than anatomy and therefore compliment other areas of diagnostic imaging.
Ultrasound:
Ultrasound is a diagnostic procedure that uses very high-frequency sound waves to produce an image of the internal structures of the body. Nashoba's ultrasound department is fully accredited by the American College of Radiology.
Vascular Ultrasound:
Vascular Ultrasound is an exam that looks at the blood vessels to see whether there are any areas of dilation, narrowing, or blockage.
Magnetic Resonance Imaging:
Magnetic resonance imaging (MRI) is a diagnostic procedure that produces images of the body without the use of X-rays. The images are created using a magnet, radio waves, and a computer system. Nashoba's MRI department is fully accredited by the American College of Radiology.
Digital Mammography:
This type of mammography is different from conventional mammography in how the image of the breast is viewed and, more importantly, manipulated. Digital mammography offers enhanced image quality, a shorter wait time for results and reduced radiation exposure.
Bone Densitometry: 
A sophisticated procedure used in the early diagnosis of osteoporosis, bone densitometry uses a radiographic imaging technique that focuses on the bone to measure bone mineral density while analyzing measurements based on age, weight, sex, and ethnic background to determine a patient's age-related fracture risk.
Schedule a Mammogram
Call: 978-784-9272
Resources
Breast cancer awareness has increased over the past decade with walks for the cure, celebrities speaking out about their experiences and proceeds of pink-ribboned products going to breast cancer research.
Nashoba Valley Medical Center provides lung cancer screening to adult patients who are current or former smokers who meet specific criteria.